Kate O'Neill is the expert companies like Google, Etsy, and Cisco turn to when they want "optimism about the role of technology in the world along with a firm reality check."
Kate is helping humanity prepare for an increasingly tech-driven future. And along the way, she helps companies like yours adopt mindsets and strategies for successful use of data and emerging technology while creating more meaningful and profitable connections with the humans who do business with you.
Need a human-centric perspective on emerging technologies?
Long known as the "tech humanist," Kate is known industry-wide as the voice of humanity in tech.
Need a speaker on Digital Transformation?
Kate's approach is "human-centric digital transformation." The way it ought to be.
Need a Futurist?
Kate has been called "the optimistic futurist," offering a hopeful vision about the role of tech in the future of meaningful human experience.
Need someone who gets the Internet of Things?
Kate literally wrote the book on how the physical and digital worlds connect.
Need consulting? Workshops? Guidance? Contact us to inquire.
Engaging, insightful, expert content to help a wide variety of audiences rethink their approach to technology and humanity for better business results and better human experiences.
For EXECUTIVE audiences: Meaningful Growth, Scale, and What's Next
For CORPORATE USER GROUPS and CUSTOMER GROUPS: Humanity at Scale: How Meaningful Data and Tech Can Work for Everyone
For TECH audiences: Automation, Integration, AI, and the Future of Meaningful Human Experience
For HR audiences: A Tech Humanist Look at the Future of Work
For SALES audiences: Data-Savvy Sales and Meaningful Growth
For CITIES and CIVIC LEADERS: Pixels and Place: Making Smart Cities Meaningful
For GENERAL audiences: How Meaningful Tech Can Empower Humanity
Many more topics and details listed here.
Trusted to speak to leaders and customers by brands you know and love: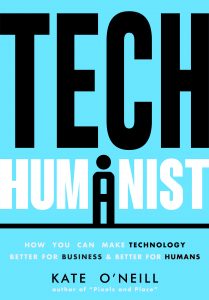 Author of several books including Tech Humanist: How You Can Make Technology Better for Business and Better for Humans and Pixels and Place: Connecting Human Experience Across Physical and Digital Spaces, Kate brings depth, breadth, humor, and humanity to data and technology topics. She bridges the gap between business interests and human needs. Her wide-ranging personal and professional experiences allow her to connect with audiences from engineers to artists, from students to senior executives. An award-winning entrepreneur, author, technologist, and strategist with a diverse and accomplished background in analytics, marketing, and linguistics, Kate has spoken for Google, McDonald's, Cleveland Clinic, Vanderbilt University, and hundreds of technical and marketing industry conferences, association conferences and annual meetings, corporate events, and more.